Cryogenic Laboraties, Inc (CLI) was established in 1971 and is known as the first private sperm bank in the country.
With a long history of quality, CLI adheres to the strict guidelines set forth by the Food and Drug Administration (FDA) governing reproductive tissue banks. FDA requirements for the donation of human cells, tissues, and cellular and tissue-based products (HCT/P's) as specified in 21 CFR (Code of Federal Regulations) Part 1271, went into effect on May 25, 2005. Cryogenic Laboratories Inc. has been registered with the FDA since January 2004.
CLI is one of the few sperm banks fully accredited by the prestigious American Association of Tissue Banks (AATB), which is a national organization dedicated to improving and promoting safety, quality and availability of donated human tissue.
CLI is also licensed and inspected by the states of MD, CA, and NY. This laboratory also obtains CLIA certification provided by the Department of Health and Human Services. All laboratory technicians must pass American Board of Bioanalysis (AAB) proficiency testing for clinical laboratory professionals.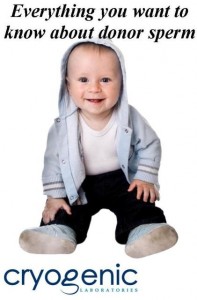 CLI remains committed to providing a high quality product that exceeds regulatory standards.